LOOKING FOR A NEW CHALLENGE?
If you're looking to try something different – and you want to take your fitness to the next level, we have the coaches, the programming, and the community to help you get there.
Get started by booking a free consult with one of our expert coaches
You'll get professional guidance on how to reach your goals.
Don't be shy about scheduling a time to talk with us, even if you're intimidated or don't think you're "the type of person to come to a gym like this."
Our CrossFit program is a strength & conditioning program that will get you fit more quickly than just about anything else out there.
Want to lean out? Build some muscle? Challenge yourself daily while constantly learning new things? Find a community to hold you accountable for your training?
CrossFit may be the thing for you.
Learn more about CrossFit
OUR INDIVIDUALIZED PROGRAMS
If you want the fastest and most personalized approach to reaching your fitness goals, nothing beats the individualization and customization of personal training. 
All you have to do is show up and execute the plan – we take care of all of the thinking for you. 
Our sister company Legion Strength & Conditioning focuses on writing individualized programs for athletes looking to maximize their potential.
If you're tired of wasting time, get serious and get a coach.
You only spend a few hours per week in the gym – what you do outside of the gym is just as important for your long-term results as what you do in the gym.
Get some help cutting through all the noise and confusion and get your nutrition handled.
Looking for the best CrossFit gym in chicago? Here's how to get started.
Set up a time to meet with one of our coaches, check out our location, and discuss your background and your training goals.
Here's what the process of getting started looks like at SLSC.
The first step for everyone starts with a consultation with one of our coaches. During your consultation, you will discuss your background, your goals, and what you're hoping to get out of your training program.
From there, the path to getting started depends on your level of fitness experience.
If you're new to training, we generally recommend that you go through our Foundational Elements program (6 one-on-one sessions) before starting with classes.
If you have training experience but are new to CrossFit, we recommend that you go through our Accelerated Elements program (4 one-on-one sessions) before starting with classes.
If you have more than 3 months of CrossFit experience, we are happy to offer you a free class after your consultation. From there, you can sign up for a trial week to see if the gym is a good fit for you.
If you're interested in more personalized services like one-on-one training, small group training, program design or nutrition coaching, we can discuss that during your consultation as well.
To learn more, check out our "What to Expect" page or the handy infographic below to visualize the getting started process.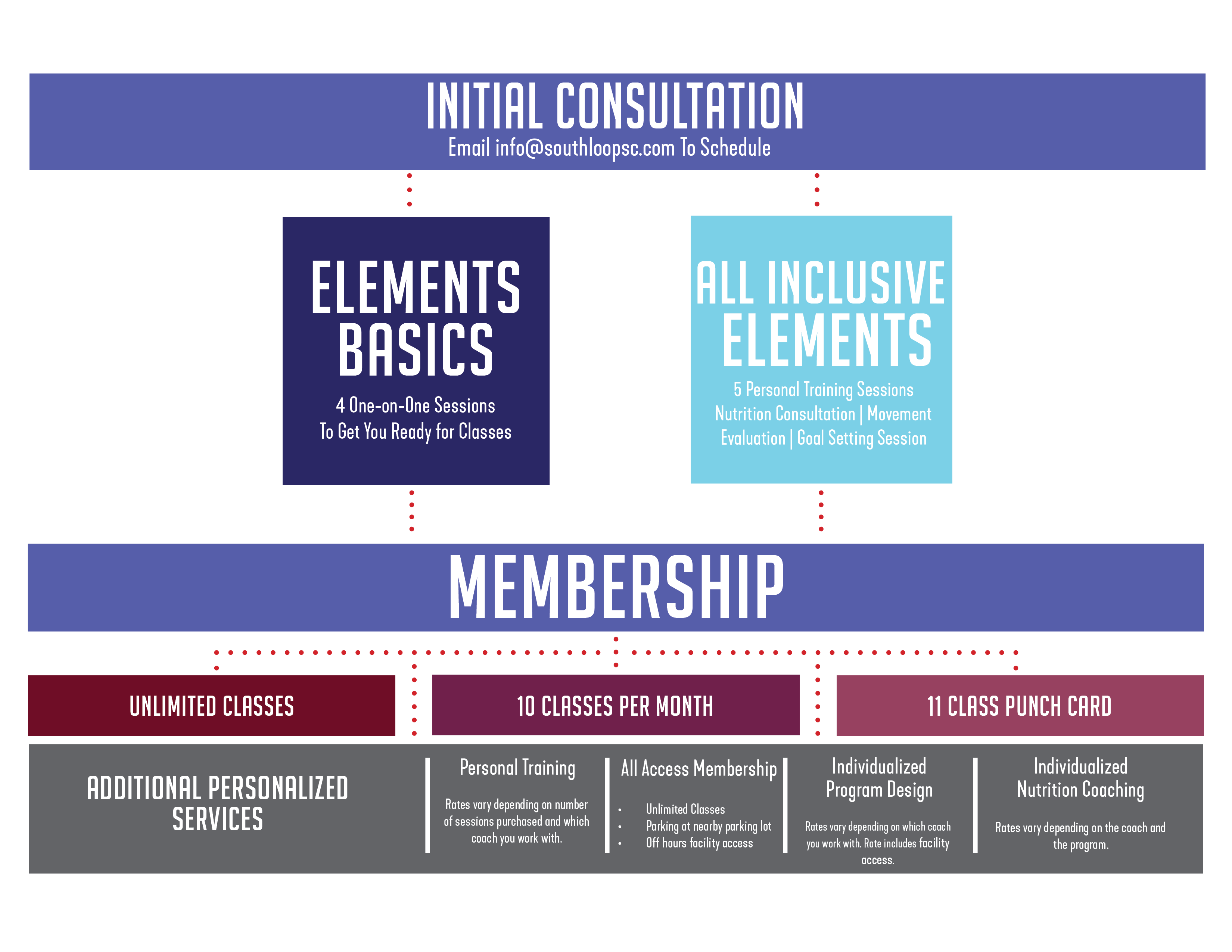 WE HAVE SOME OF THE MOST HIGHLY QUALIFIED COACHES IN THE BUSINESS
Our coaches hold certifications from the following organizations: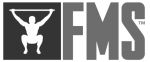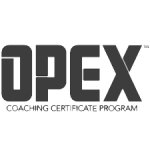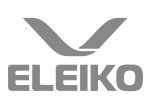 One of the most common questions people have before getting started is…"So, what does all of this cost?"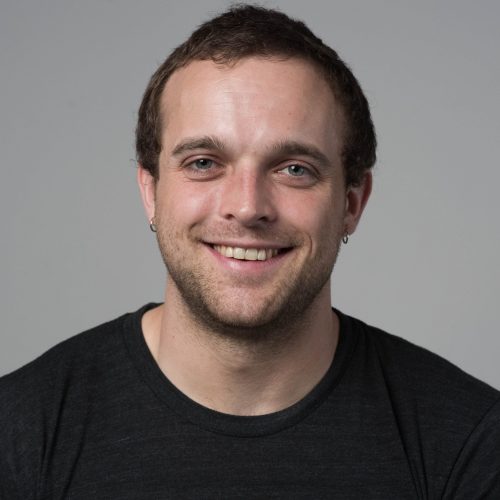 Todd Nief, Founder – South Loop Strength & Conditioning
We've got a few different options for getting started at SLSC.
Our onboarding packages all involve some one-on-one training sessions with a coach – since making sure you feel comfortable and safe with all of the movements that we do is one of our top priorities for all new members.
After going through the one-on-one sessions, our members then move on to either our group classes or one of our more personalized training tracks.
For our group classes, we have both unlimited monthly visit options as well as limited visits options.
For our personalized training, we have either packages of personal training sessions, or hybrid options that include both our group classes and more individualized work with a coach.
There's a lot more information on this process on our "What to Expect" page.
When choosing a gym, the most important thing is to find a gym and a community that is a good fit with your background and your goals.
Do you feel comfortable with the community? Is the location convenient – so you're able to attend regularly? Are you getting consistent feedback from the coaching staff to keep you progressing safely?
And, yes, is the investment in your budget?
Every gym has a slightly different character to it, so don't be afraid to evaluate the options and figure out where you'll get the best results.
You can get our up-to-date pricing information by clicking this button and filling out the form.
"Why do I train?" Searching for the words to answer what seems to be an extremely basic question. At the core, it would be simplistic and average to say, "I train so I can be healthy, look better and feel better about myself." However, the real reason I train is to avoid the worse word in that answer... to be average. I believe inside of everyone, there are two innate fires that burn, and those are to be inspired and to be great."
Dave H.
Broadcaster
"I was pretty shy growing up so, I never gravitated towards sports because it required human interaction (lol). However, something that I never saw as a chore or workout was walking or jogging. I loved popping in my headphones and going for a run or walk. Later, I realized it helped me clear my head and I would feel better physically and mentally."
Luis V.
Consultant
"Being here with amazing athletes that have the same goals and hunger as I do is incredibly motivating and inspiring. I train because I want to reach something that I never thought I could, and I want to be a stronger person, mentally and physically. "
Carmen S.
Registered Nurse
"CrossFit also helped me develop skills for other areas of my life. I write code, which is a field where you constantly have to learn new things. The progress I made at CrossFit helped me to believe that I could grow and improve: that I wasn't stuck at my current skill level because I was already an adult, and there was absolutely no reason that I couldn't focus and learn new things that I wanted to be able to do."
Chelsea T.
Software Engineer
FREQUENTLY ASKED QUESTIONS
DON'T WAIT FOR THE PERFECT TIME
There's no such thing as a perfect time, and you'll learn more and get more out of coming in to chat with one of our coaches than you will in hundreds of hours of continued research.
Besides, your first consult is on the house.
We're happy to invest in spending some time with you so that you can find out if we are who we say we are (since we know lots of people have been burned by disingenuous marketing in the fitness industry in the past).
Come see what it's all about.