Getting started can be intimidating, so we want to make sure you know what to expect.
Ready to come check out our gym? 
Click below to book an initial consultation.
I'm interested in getting started. How does this work?
We understand that the process of getting started with a fitness program like ours can be a bit confusing. We also understand that it can be intimidating to step into a new facility.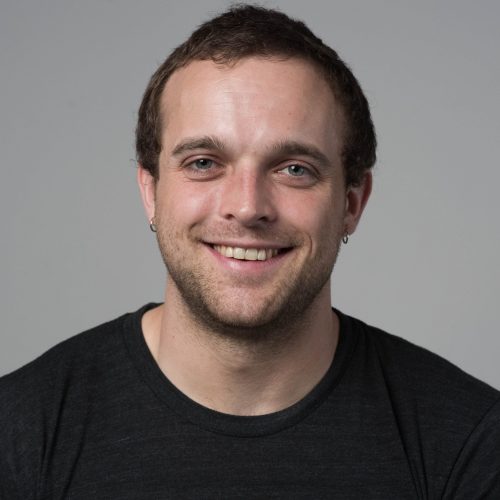 Todd Nief, Founder – South Loop Strength & Conditioning
So, we want to lay out exactly what that journey looks like – whether you're new to training, you're getting back into fitness or you're an experienced athlete.
Getting started at SLSC can be broken down into three stages: 
1. Consultation
2. Elements 
3. Membership
Check out the typical flow of joining South Loop Strength & Conditioning: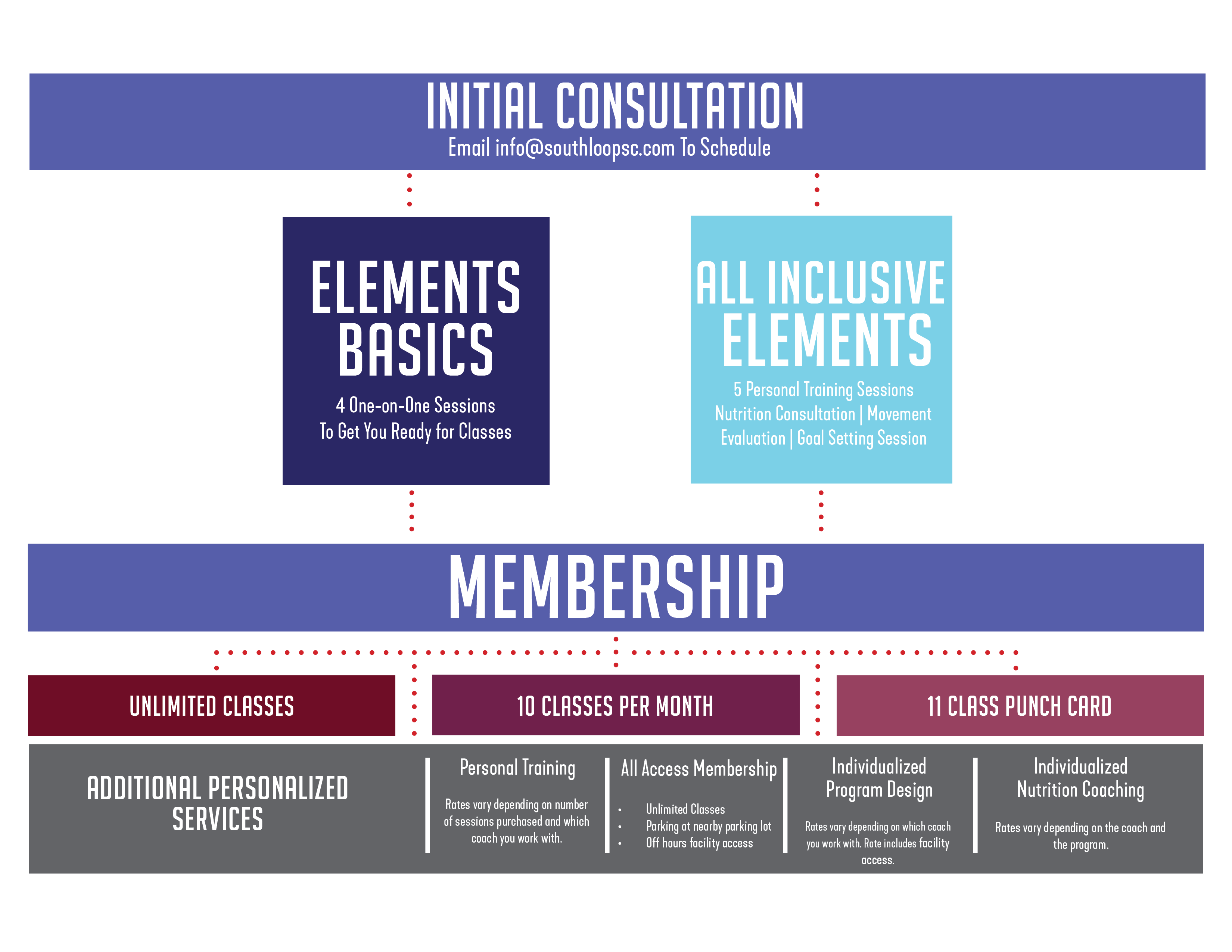 If you're ready to get going, you can click below to book your initial consultation.
Still on the fence? Still deciding? You're not the only one. 
Below are details on each stage of the process – as well as some the most frequently asked questions that other members had before joining SLSC.
Do all members go through an initial consultation?
We like to meet one-on-one with everyone when they're checking out SLSC. This initial meeting allows us to get to know you and what you're looking for – and gives us the opportunity to prioritize your comfort and your safety while getting started.
Understanding your training background helps our coaches assist you in achieving your goals and setting expectations for training with us. We get there together.  
Who are our professional coaches? 
Learn why we are so proud of the SLSC coaching team.
During our initial consultation, we will spend some time discussing your training background and your interests and goals.
We will also go through a brief movement screen – so that we can preemptively catch any major red flags in your movement before starting you on an exercise program. Most people don't have major issues, so we can also suggest some mobility or stability drills that may be helpful as you start your fitness journey.
We will also put you through a short workout at your consultation to give you a taste of the type of training that we do. The workout will probably be somewhat challenging, but does not require any advanced movements or skills. 
Also, the workout is not an "evaluation" of your current fitness. The goal is just to  familiarize you with the style of training and coaching at SLSC.
Curious what our daily programming looks like?
Check out our workout of the day here.
Been training for awhile?
We can do a shorter version of the consultation and have you try a class out. Email us directly if you are an experienced athlete looking to join our gym.
Elements is our one-on-one onboarding program where we teach the fundamentals of the movements that we use in our CrossFit and Olympic Weightlifting classes.
These sessions are focused on developing solid technique in these movements and giving you an understanding of how to do different types of workouts. You will learn:
•Proper form and technique to keep progressing long-term
•How much weight to use on different exercises
•How to pace yourself on conditioning workouts
•When to push yourself and when to back off
•How to scale and modify movements based upon your ability
•How to know your way around the gym – where equipment is located, how to warm-up and cool down, etc.
How do I schedule Elements sessions? What if I have a busy or irregular schedule?
The sessions are scheduled at your convenience. We have coaches available all throughout the day, including early risers at 5am and night owls at 7:30pm.
If you prefer, you can work with the same coach for all of your sessions, or you can switch between coaches based upon your schedule.
We can also do 2-on-1 Elements sessions if you'd like to get started with a friend.
Will I be ready for classes after going through the Elements program?
While it often takes several months to be comfortable with all of the different movements that we do, we often tell people that they should feel "conversational but maybe not fully fluent" after their Elements sessions.
Once you join the group classes, you will still be receiving regular coaching and feedback from our coaches, so it's not like you need to be a pro just after completing your onboarding sessions.
How does the All Inclusive Elements program work?
•5 Personal Training Sessions
•Nutrition Consultation with a Nutrition Coach
•Movement Evaluation with a Physical Therapist
•Goal Setting Session
Our All Inclusive Elements option is the best value for anyone who is serious about getting started and wants a fully individualized onboarding experience.
This is the complete package and includes personal training sessions with a coach tailored to your needs as well as nutrition coaching and a detailed movement evaluation from a physical therapist.
This package can serve both as an onramp into our group classes as well as a starting point for personal training.
How does the Elements Basics program work?
•4 One-on-One Elements Sessions
Our Foundational Elements program is ideal for people who are new to serious training. Here's how it works:
•Six 60 minute one-on-one sessions – scheduled at your convenience
•Most folks complete one session every 2-3 days, so this program typically takes 2-3 weeks to complete
•The curriculum includes multiple touches on the most important movements, as well as detailed review of the more challenging Olympic weightlifting movements
How does monthly membership work?
We offer both CrossFit and Olympic Weightlifting group classes all throughout the day.
We find that people enjoy the camaraderie, fun and accountability of our group classes, as well as the hands-on coaching and challenging but intelligent programming.
Our CrossFit classes are an hour in length, and they focus on developing both strength and conditioning through barbell movements, bodyweight movements and interval workouts.
Some days are focused more on strength training, other days are focused more on long workouts and heavy breathing, and some days are a blend of the two.
What are the most popular membership options?
We have several different options to suit the needs and schedules of our members.
Most of our members do our Unlimited monthly membership, and they typically attend class 3-5 times per week. We find that a consistent attendance of 3 times per week is sustainable for most people and gets them results.
Do you travel for work regularly? Do you work in shifts that change week-to-week? Are you training for a marathon, triathlon or other event?
The 10 classes per month membership (effectively 2 times per week) works well for for folks with irregular schedules, lots of travel or with multiple training priorities. 
While we generally recommend that people shoot to train at least 3 times per week, not all of those training sessions need to be with us.
What if I want to work one-on-one with a coach instead of doing classes? Or what if I want to do a combination of classes and one-on-one training?
If you want to maximize your training and get a fully customized plan, nothing beats working one-on-one with a coach.
We have many members who train exclusively one-on-one with our coaches, as well as many members who do a blend of both our group classes and individualized work based upon their specific goals.
If you want to dial in on a specific goal, work around movement limitations, speed up your results – or if you just don't like working out with a big group of people – then one-on-one training may be for you.
Check out our options below.
Personal training allows a coach to dial each specific session in to your needs – whether that's focusing on body composition change, health and longevity, or developing new skills.
Some members choose to do personal training as their primary form of training several times per week, while others train mostly in our group classes and use personal training as a supplemental option to work on weaknesses or hold themselves accountable to specific goals.
Individualized Program Design
Our individualized program design option involves training on your own while executing a program designed for you by one of our coaches.
This option works well for people with enough training experience to know their way around the gym, but who are looking for specific performance goals or who prefer to do a different style of training than that of our group classes.
While many of our more competitive athletes follow individualized programs, that's not the only group that does well with this option. People who want to achieve specific skills can do individualized training in addition to our group classes, and anyone who wants the accountability and structure of a one-on-one relationship with a coach can do well with this option.
Everyone knows that nutrition is a key part of getting better results in the gym, but that doesn't always result in behavior change.
Having a coach is a key step in developing habits that can help you with your nutrition long-term. Our coaching isn't just about giving you a meal plan or some macro numbers to hit – it's about understanding where you're at and developing a sustainable plan to get you where you want to go.
We have both ongoing monthly nutrition coaching options as well as an option for one-off nutrition consultations.
DON'T WAIT FOR THE PERFECT TIME
There's no such thing as a perfect time, and you'll learn more and get more out of coming in to chat with one of our coaches than you will in hundreds of hours of continued research.
Besides, your first consult is on the house.
We're happy to invest in spending some time with you so that you can find out if we are who we say we are (since we know lots of people have been burned by disingenuous marketing in the fitness industry in the past).
Come see what it's all about.