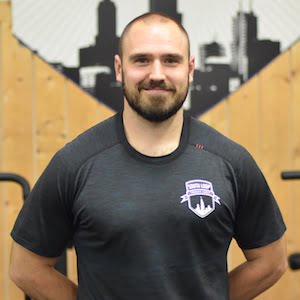 Paul Wagner
Owner, General Manager, Lead Coach
My love for coaching comes from years of competing in football and lacrosse. My coaching career started in 2005 in Columbus, Ohio. After years of coaching high school sports, my passion for coaching and developing people turned into a career when I started coaching at South Loop Strength & Conditioning in 2012.
Helping people along their journey of personal development, health, wellness, and fitness is my passion. Whether it's working with high-level athletes or people searching for wellness, each opportunity brings me joy.
My commitment for increasing my knowledge and developing my skills as a coach is never ending. My own personal journey of physical development continues to keep me inspired and focused. My drive to push myself as a coach is only surpassed by the efforts put in by the members, and because of that I am fully committed to them.
Certifications
CrossFit Level 2
Eleiko Strength Coach
FMS Level 2 (Functional Movement Systems)
NASM – Certified Personal Trainer
OPT CCP Level 1 (Optimum Performance Training): Program Design, Assessment
Poliquin BioSignature Level 1