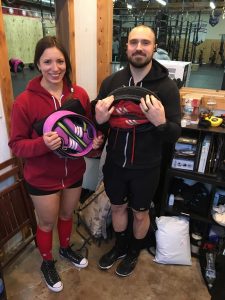 High schools across America have been pitting nerds against jocks for decades.
I'm not sure if the same dichotomy exists in Germany, or if it's merely the outgrowth of paragons of American culture like Archie, The Breakfast Club, and Friday Night Lights.
Either way, that distinction between "brains" and "brawn" has never sat well with me. Sure, I can anecdotally think of all kinds of "dumb jocks" and "nerds" hunched over computer keyboards. In coaching beginners to CrossFit, I do often encounter analytical types who have a hard time learning new movements – often due to what I perceive to be excessive self-awareness and intellectualization of movement patterns. It's really hard to execute a snatch properly when you're abstractly thinking through every step. So, sometimes the dumb jocks probably do have an advantage in their ability to shut off their pre-frontal cortex and be present with their movement.
Still, I think there's more overlap between rigorous academic pursuit and training than most people realize. I mean, where else do you get to embark on a multi-year journey of continuous self-improvement involving spending multiple hours on a weekly – or daily – basis suffering for the benefit of some sort of idealized future self?
I recently saw a documentary on the Barkley Marathons called – well – The Barkley Marathons. This film tells the story of a wildly eccentric man and his wildly eccentric race, which consists of three laps through the Tennessee woods that round either up or down – no one is really sure – to 100 miles. Only a handful of people have finished the race over the years, and, of the three who finish in the film, two are graduate students and one is an engineer. While every scientific instinct in me screams "the plural of anecdote is not data," I'm of the inclination that there are personality types drawn to both physical and mental challenges. It also seems that I'm not the first one to opine on this topic, as Wired just ran an article on this concept as well.
I think there may be some cross-over here with strength sports like weightlifting, CrossFit, and powerlifting as well.
For a case study, we have Stefanie Rulla. Steffi is a state champion powerlifter from Nordreihn Westfalen and PhD candidate at the Center of Advanced European Studies and Research in Bonn.
Check out this interview with Paul and Steffi to learn about getting started with powerlifting, the challenges that females face competing in strength sports, and the neuroscience of the threat response.
Listen Here
Check out more from Stefanie here
Instagram: @steff.rulla.powerlifting
Twitter: @steffi_rulla
Show Notes
0:30- Caffeine intake and getting started with powerlifting
3:30- What was your first powerlifting meet like? How does it feel to overdose on caffeine?
8:15- The underwear requirements for beginner powerlifting meets
12:10- How to transfer from bodybuilding to powerlifting – under the guidance of Coach Mark Macqueen
21:10- The supportive community amongst female powerlifters
25:00- How to excel at the mental game of powerlifting
28:40- What stage of your powerlifting life are you in? Whats your training age? Best lifts in competition?
44:16- How do you balance training for elite level powerlifting with getting a PhD?
56:55- You're a neuroscientist, what does that mean?
1:05:00- How has your mentality towards education changed throughout your continuing education journey?
1:14:55- "The field of science is cruel and not in the favor of science."