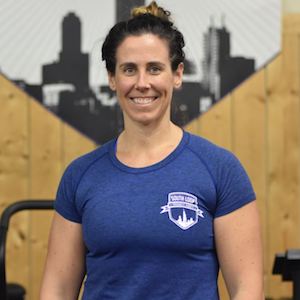 Morgan Funke
Lead Coach
Where were you born?
Evanston, Illinois
Where did you grow up?
Winnetka, Illinois
What schools did you attend?
University of San Diego (Journalism)
When did you start CrossFit?
2011
What made you start CrossFit?
I was cross training for the New York Marathon (my 7th attempt to beat Oprah) and found an indoor rowing studio. They had CrossFit in the back of the studio. I went through Elements and – long story short – I don't run anymore.
When did you come to SLSC?
Summer 2016
What do you enjoy about SLSC?
The space is beautiful and the equipment is plentiful and diverse.
What do you enjoy about coaching?
Building relationships with everyone and earning their trust through fitness.
What would you say to someone who is considering trying out SLSC but is unsure?
Don't worry about getting in shape to start CrossFit – that will take care of itself. Have no regrets!
Certifications
CrossFit Level 2
CrossFit Specialty: Gymnastics, Kettlebell, Strongman
Concept2 Trainer
Social Media
Instagram: @morslofun