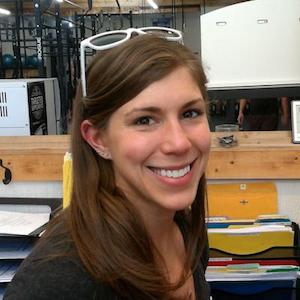 Megan Benzik
Lead Coach
Where were you born?
Chicago, Illinois
Where did you grow up?
South Suburbs of Chicago
What schools did you attend?
I jumped around a lot while in school. I ended up getting an interdisciplinary studies degree from Governors State.
When did you start CrossFit?
October 2011
What made you start CrossFit?
I have always been into health and fitness. I have loved working out for as long as I can remember, but could never find a sport I enjoyed. You can imagine my excitement when I found the sport of fitness.
When did you come to SLSC?
Todd Nief started programming for me towards the beginning of 2015
What do you enjoy about SLSC?
I love how passionate the owners at SLSC are. I have been to a lot of CrossFit gyms and I have never come across a gym that was run by people who are always so willing to put their members and coaches first. I have experienced this from a client standpoint while working with Todd and now from an employee/coaching standpoint. It's motivating and comforting knowing you are surrounded by people who truly care and are providing you with the best service they can.
What do you enjoy about coaching?
I love having the ability to positively influence so many people on a daily basis to help them become the best version of themselves they can. Helping members create inspiring fitness journeys that lead them to accomplishing more than they ever thought they could is something I am extremely passionate about. I often set goals for my clients that go above what they believe is possible for themselves. It's about proving anything is possible if you set your mind to it. The crossover this has in life is more apparent than most people would think.
What would you say to someone who is considering trying out SLSC but is unsure?
Ask yourself why you are unsure. CrossFit may seen scary and intimidating at first, but it's not. No one ever sees how beginners classes are run and trust me when I say that ANYONE, regardless of fitness level, can do it. It is often the things that take us the furthest out of our comfort zone that leads to the greatest growth and accomplishments in life. It can never hurt to try!
Worst case scenario? Don't like it, move on. Best case scenario? You change your life for the better. Also, SLSC is unique in the services it offers – nutrition, private coaching, FAST classes, ongoing seminars, open gym whenever the gym is open, powerlifting classes, etc. There is something for everyone.
Certifications
CrossFit Level 2
CrossFit Gymnastics
ISSA Fitness Trainer
Social Media
Instagram: @megbenz210