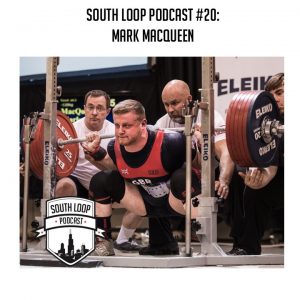 Mark is from Glasgow, Scotland. Mark is the current Scottish and British champion in the 120kg class. He was the IPF European silver medalist last year and is currently the #1 ranked powerlifter in Scotland. Mark has personal bests of a 700lb squat, 407lb bench press, 710lb deadlift, and 1,808lb total as a raw/drug-free athlete. He trains out of Outcast Barbell Sanctuary and works with coach Ben Rice.
Listen Here
Check out Mark here:
Facebook: @markmacqueenpowerlifting
Instagram: @markmacqueen2
YouTube: @markmacqueen2010
Show Notes
00:29- Catching up and discussing coming back to training after a holiday break. Mark's 2017 competition season and the end to his junior lifting career.
7:28- Writing your own programming, coaches having a coach, and separating being an athlete and a coach.
19:57- Having a training partner/s and the benefits of enjoying time in the gym.
25:55- The mindset of an athlete might be pretty similar to the mindset of a successful business person. "Not many people want to be a world champion."
28:55- "The number one thing people should be is, try to be a good person." Wanting more, and living life on your own terms.
41:28- Not every person we work with as coaches want to be world champions.
50:00- Understanding individual priorities and balancing that within a relationship.
54:28- Strongman, the most entertaining strength sport? A review of last years IPF world championships and what it takes to be champion.
1:00:00- What does it take to be the best of the best? Specific traits from nature, natural gifts and genetics, early life tragedy or trauma? Expression of ones internal motivation through athletics and competition.
1:04- Competition and competing as a job. Game day planning is crucial to success.
1:09- The obsession that drives people can be difficult to understand.
1:13- Screw up at 180%.
1:18- Rags to riches… Conor McGregor.
1:22- What book, blog, podcast, etc has interested you recently?