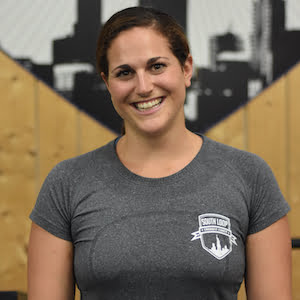 Devyn Parnes
Lead Coach
Where were you born?
Palo Alto, California
Where did you grow up?
Sun Valley, Idaho
What schools did you attend?
University of Denver (Economics)
Feinberg School of Medicine PA Program – Northwestern University
When did you start CrossFit?
2011
What made you start CrossFit?
I wanted some organized fitness since collegiate sports (road cycling) were over.
When did you come to SLSC?
Summer 2016
What do you enjoy about SLSC?
It's a happening gym full of people that are hardworking and, more importantly, welcoming and fun.
What do you enjoy about coaching?
I love sharing my knowledge of body mechanics and watching people actively care for themselves. Also, seeing members make gains big or small. It's incredibly rewarding.
What would you say to someone who is considering trying out SLSC but is unsure?
I always say, the hardest part is showing up. If you walk in the door, the programming, the community and the coaches will help you take care of the rest.
Certifications
CrossFit Level 1
Nationally Registered EMT