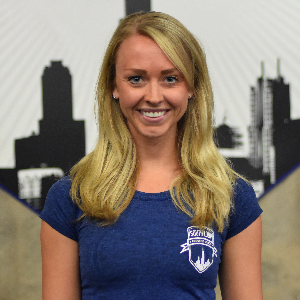 Callie Winter
Lead Coach
Where were you born?
Chicago suburbs
Where did you grow up?
Downers Grove, IL
What schools did you attend?
Augustana College (B.A – Communication Studies & Multimedia Journalism)
Illinois State University (M.S – Interpersonal Communication)
When did you start CrossFit?
I started CrossFit around 5 years ago. I did it on and off for a couple years before getting more serious about it about 2 years ago.
What made you start CrossFit?
I started it in college because I had gained the "freshman 20." It helped a lot but I stopped for a while after graduating and moving. I took about 8 months off, began grad school and had a really hard time and needed something as a stress reliever, so I started it up again. I ended up losing 30 pounds and significantly reducing my stress and anxiety. It's safe to say I will not stop doing it again!
When did you come to SLSC?
I came to SLSC in September of 2016 right when I moved to the city.
What do you enjoy about SLSC?
The amazing coaches and programming. Not only are the coaches inspiring, kind, and care about their members, they take the time to get to know everyone and push them to be their best. I love the programming here as well, in the short amount of time I have been here, I have improved on absolutely every aspect of CrossFit.
What do you enjoy about coaching?
Being around kick-ass people who are there working their hardest and trying to better themselves every single day. It's the best feeling in the world seeing someone do something they never thought they could do!
What would you say to someone who is considering trying out SLSC but is unsure?
Try it and give it 3 months. Also, get comfortable with being uncomfortable. It took me about 6 months to join a CrossFit gym after deciding I wanted to because I was so scared. First, there's nothing to be scared of, everyone started somewhere!! CrossFit is uncomfortable, awkward, and overwhelming when you first join, but if you're patient and trust the process, I can guarantee you that you will love it and that you will see results. I've tried every gym and fitness regimen in the world and nothing has given me better or faster results than CrossFit!
Certifications
CrossFit Level 2
CrossFit Specialty: Gymnastics
Social Media
Instagram: @caljw11