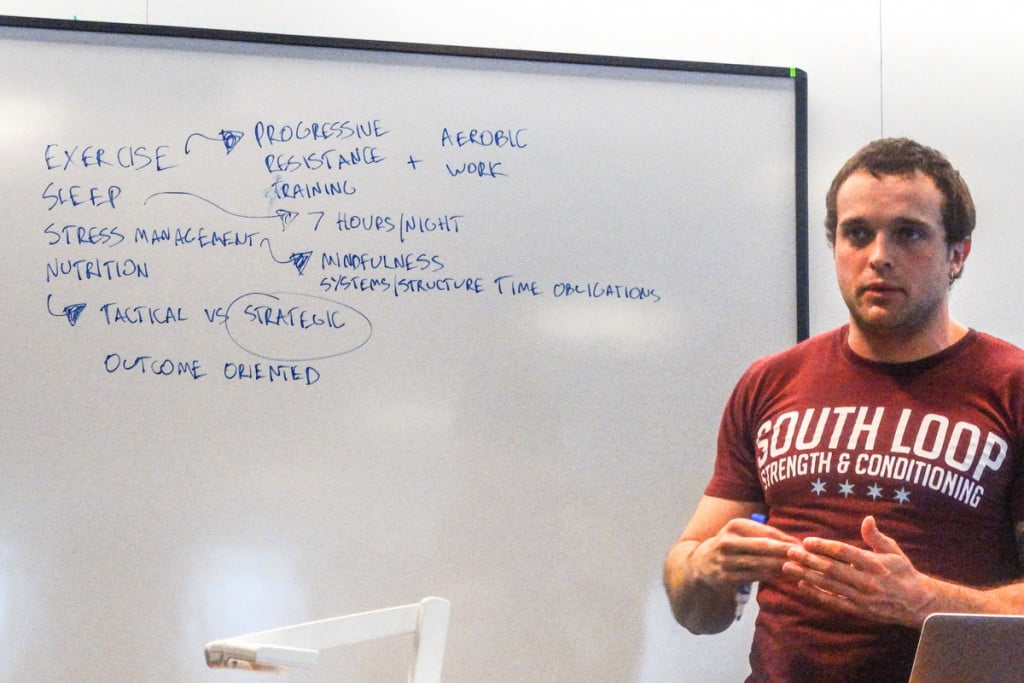 I recently gave a lecture on eating for improved energy and mental focus at Kent Law School.
I put a crappy handheld voice recorder on the desk and figured I'd maybe share the lecture with some folks who had wanted to come but couldn't make it and with the participants in a corporate health program we do.
The birth of the South Loop Strength & Conditioning Podcast
Well, the audio turned out much better than expected and Paul and I have been discussing doing a podcast for awhile, so this is now Episode 1 of the South Loop Strength & Conditioning podcast.
Take a look on iTunes here and hit the subscribe button if you want to hear our upcoming interviews with some genius physical therapists, coaches and athletes.
I also know not everyone is a podcast fiend like myself, so you can stream the lecture here.
I'll give a quick summary of what we discussed
1) Strategy vs. Tactics
2) Four buckets for improved health, performance (physical & mental) & body composition
– Exercise, Sleep, Stress Management, Nutrition
3) Homeostasis: The body regulates many factors through tightly controlled physiological processes
-Examples: blood pH, body temperature, electrolyte balance, blood sugar, cell death and regeneration, bodyweight
-Thermostat analogy
4) How to change behavior
-Willpower is insufficient
-Start small: Behavior change is orders of magnitude more successful when one change is attempted at a time
If you want to see the outline I used for this lecture, go ahead and enter your contact info here and we'll send it your way.
We'll also send you a link to download the mp3 of the lecture directly if you prefer to listen that way.
I ask for your contact info so that we can keep you in the loop on new articles, videos and lectures that we post on training, nutrition and performance – with the hopes that you'll share our content among your friends and, if you're ever looking for coaching in these areas, that you'll think of us.