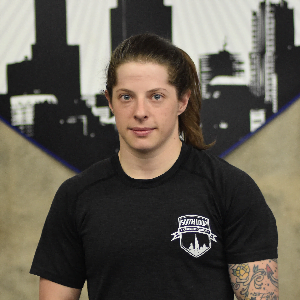 Amy Halperin
Lead Coach
Where were you born?
Montreal, QC, Canada
Where did you grow up?
New York, NY
What schools did you attend?
Saint Leo University (BA Homeland Defense/Criminal Justice)
When did you start CrossFit?
2013
What made you start CrossFit?
I started doing CrossFit after my regular gym routine just wasn't cutting it anymore. At work I was part of a six-man team and I had to be fit in order to get my job done and assist my teammates if a situation ever went south. I was very fortunate to be able to help start an affiliate called 21 Guns CrossFit – a non-profit box that was available for all of the various agencies that were represented where I worked. This box not only strengthened our bodies and minds but also our partnerships and work relationships in the field. Beyond all of that, CrossFit scratched my competitive itch as I had just retired from a rugby career spanning almost 10 years!
When did you come to SLSC?
I came to SLSC in the summer of 2016 after being transferred to Chicago for my job in the U.S. Coast Guard (Yes, we are even on the Great Lakes!)
What do you enjoy about SLSC?
My favorite thing about SLSC and CrossFit in general is watching people progress and constantly strive to become better versions of themselves. At SLSC we do a great job of getting hyped up for our classes but also take the time to slow the pace and focus on technique…that balance is an art in and of itself!
What do you enjoy about coaching?
Coaching and teaching are a passion of mine in many areas of my life. I spent many years coaching rugby and teaching in the U.S. Coast Guard so coaching CrossFit seemed like a natural progression in my life. I take so much pride and joy in watching something "click" in someone's mind, and then watching them do something they never thought they could. To see someone unlock a new level of confidence in themselves is incredibly rewarding. To me, coaching is all about continuing to be an active learner. As a coach, my athletes challenge me to be creative and find things that work for them. They also challenge me to look at myself and constantly evaluate my "why". I love meeting new people and sharing my passion for fitness with anyone willing to listen!
What would you say to someone who is considering trying out SLSC but is unsure?
Walking into a CrossFit box or any gym can be very intimidating, we all go through that! The coaches, staff AND athletes of SLSC all have their own story. We all started somewhere and we are all here to support one another. Take each workout and session day by day and focus on what you can control – your effort! Just know that as soon as you walk through our doors, you're part of our family and we will walk with you every step of the way!
Certifications
CrossFit Level 2
CrossFit Specialty: Gymnastics, Movement & Mobility
First Responder-CPR & First Aid/ Tactical Combat Casualty Care
USA Rugby Coach Level 200
U.S. Coast Guard Unit Health Promotion Coordinator
Social Media
Instagram: @zerotoamy