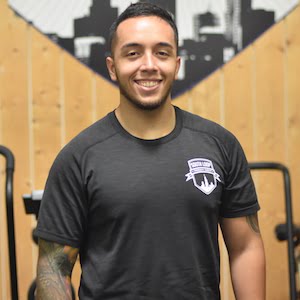 Sam Carreon
Lead Coach
I've been fortunate enough to compete in and try new sports my entire life. Coming from an athletic family it was never a question if I'd compete in sport at a high level, but what?
Growing up I played football, soccer, baseball, basketball. I practiced 3 years of Muay Thai training, and even participated in dance. My CrossFit journey started early in 2009. I was employed at Lifetime Fitness in Romeoville, Illinois as a "Fit Floor crew member", better known as the cleaning all the machines, wipe down mirrors, take out trash, etc, guy.
One day, while cleaning, I noticed our most intense Trainer (Rick James, lol), just working the guts out of a new client. Rick caught me staring and challenged me to try a session with his new client and him he next day. While I am always up for a challenge, I accepted. What I didn't know was that he was incorporating CrossFit into those sessions for his client who was preparing to leave in 4 months for B.U.D.S training in Coronado, CA. to train as a Navy SEAL.
Those 4 months flew by and I made tremendous progress in my own skills and training. However, it wasn't until almost 3 years later, March 2012 when that client from Lifetime returned home for some brief time off that he introduced me with Crossfit.com, the CrossFit YouTube channel and pretty much all things CrossFit.
I began researching and attempting to teach myself different movements. I didn't step into my first "box" until August 2012. I was absolutely thrilled to be able to have actual coaches around me to help, along with the community aspect.
Now, fast forward to 2015 I've been able to stay diligent, make consistent progress, and have a goal of competing at the Regional level in this sport that has changed my life.
Certifications
*CrossFit Level 1
*NASM Certified Personal Trainer